Our Board of Directors
The dynamic leaders who comprise Rewards Network's Board of Directors bring substantial knowledge and experience in the areas of financial services, restaurants, e-commerce, technology, business development, and strategy. Collectively, we believe that by leveraging data and technology, Rewards Network will become an essential partner to local restaurants—helping them grow by delivering diners, access to capital, and unique market intelligence.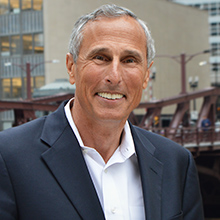 Edmond Eger III
Ed joined Rewards Network as chief executive officer and member of the Board of Directors in 2017, having previously served as chief executive officer of OANDA Corporation, a recognized global leader in forex trading, forex information and insights, and corporate solutions for cross-border payments. In his role at Rewards Network, Ed draws on his extensive experience in e-commerce, financial technology, leadership management, global branding, and risk management.
Ed previously worked at PayPal as senior vice president and general manager for the Americas. In this role, he was responsible for establishing PayPal as the preferred online payment method for consumers and merchants for PayPal's largest business unit, which covered North and South America. Ed's prior experiences include business management positions within Citigroup, Standard Chartered Bank, Wells Fargo Bank, and McKinsey & Company.
A native of San Francisco, Ed is a Phi Beta Kappa graduate of Claremont McKenna College, where he graduated magna cum laude in economics and mathematics. He received his MBA from Harvard Business School. He currently serves on the board of Manhattan Associates, a provider of market leading technologies for supply chain and omni-channel commerce; he served on the board of Digital River, an e-commerce platform provider, until it was sold in 2015. He has been active on several nonprofit boards, including City Year San Jose/Silicon Valley.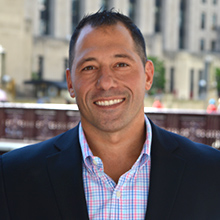 Steve Fusco
Steve joined Rewards Network as President in 2018, overseeing the Sales and Partnerships functions and serving in a general leadership position in support of the CEO, Senior Leadership Team and organization at large.
As a growth leader, Steve brings a strong background and deep experience in the fields of e-commerce, finance, banking, and technology, translating into the successful businesses he built at PayPal and before that, Citigroup. At PayPal, Steve served in a number of roles of increasing responsibility. Most recently, Steve served as Vice President and General Manager of Global Distribution in which he led a global team responsible for partnership with technology platforms and marketplaces. Prior to PayPal, Steve served in a variety of executive roles at Citigroup, in both the Credit Card and Retail Banking businesses.
A native of New York and graduate of Duke University and UCLA's Anderson School of Management, Steve spent his early career in the Marine Corps and remains active in veteran's causes. In 2014, he was recognized by the Silicon Valley Business Journal as one of Silicon Valley's "40 under 40."
Steve currently resides in Northern California with his wife and three children.
Julie Atkinson
Julie Atkinson has served as Chief Marketing Officer for Founders Table Restaurant Group (parent company of Chopt Creative Salad and Dos Toros Taqueria), since September of 2019. She previously served as Senior Vice President, Global Digital at Tory Burch LLC from February 2017 to February 2018. Prior to joining Tory Burch, Ms. Atkinson served in various leadership roles at Starwood Hotels & Resorts Worldwide including SVP Digital and VP Distribution. Ms. Atkinson also held multiple roles at Travelocity including marketing and operations. She holds a BA from Amherst College.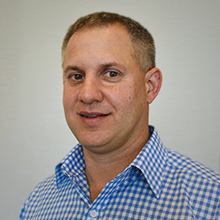 Jonathan Bilzin
As a TowerBrook Capital Partners managing director where he is a member of the management and investment committees.
Jonathan was previously a managing director at Soros Private Equity. Prior to that, he was a member of the principal investment area and real estate principal investment area of Goldman Sachs in New York.
He earned his bachelor's degree in business administration from the University of Michigan and his MBA from the Stanford Graduate School of Business.
Michael Carpenter
Michael retired as CEO from Ally Financial Inc. in February 2015 after a long and distinguished career in the financial services industry.
Ally, formerly GMAC, was a recipient of $13 billion of government funding under the TARP program in 2009 and was experiencing significant losses when Michael assumed the CEO position. He retired from Ally after returning the company to profitability, taking the company public in April 2014, and after repaying Treasury almost $16 billion by 2014. From 1998 to 2006 Michael was a member of Citigroup's senior management group, having been the architect of the Travelers-Citi merger. During his tenure, he served as chairman and CEO of Citigroup Alternative Investments (2002-2006) and chairman and CEO of Citigroup's Global Corporate and Investment Bank (1998 to 2002), with responsibility for Salomon Smith Barney and Citibank's corporate banking activities. Prior to Citigroup, served as CEO of Travelers Life and Annuity and vice chairman of Travelers Group, Inc.
Michael was a senior officer of GE from 1983 to 1994. Earlier in his career, he worked at the Boston Consulting Group and Imperial Chemical Industries of the United Kingdom. Mr. Carpenter currently serves on the boards of CIT, Autobytel, US Retirement Partners, Law Finance Group, The New York City Investment Fund, and has been a board member of the New York Stock Exchange, General Signal, Loews Cineplex, and various other private and public companies.
Michael received his Bachelor of Science from the University of Nottingham in England and completed his MBA at Harvard Business School, where he was a Baker Scholar. He holds an honorary Doctor of Laws degree from the University of Nottingham.
Steven Freiberg
Steve serves as chairman of the Board of Directors of Rewards Network. He brings a wealth of knowledge from over 38 years of experience in the financial services industry, most recently as CEO of E*Trade Financial, and prior to that, 30 years with Citigroup, where he served as co-chairman & CEO of Citi's Global Consumer Group , chairman and CEO of Citi's Credit Card Division and CEO of Citi's North American Investment Products Division.
Steve also serves as the Founder of Grand Vista Partners, the Freiberg Family Investment Office. In addition to Rewards Network, Steve serves as the vice chairman of SoFi, board chairman at Fair Square Financial, and a member on many other boards including MasterCard and Regional Management Corp. Additionally, he is a senior advisor to Boston Consulting Group, Verisk Analytics, and TowerBrook Capital Partners.
He earned his bachelor's degree in finance, as well as his MBA from Hofstra University.
Mike Marcus
Mike has 30+ years of experience in the financial services sector. He is the founder of Marcus Partners, LLC, a strategic advisory firm focused on the retail financial services, payments, and information services industries. In that capacity, he serves as a senior advisor to The Boston Consulting Group, and to Argus (a Verisk Analytics company).
Mike previously served as chief risk officer, chief marketing officer, head of strategy and business development, and head of customer information management at HSBC/Household's U.S. credit card business. Prior to that, he was a partner at The Boston Consulting Group.
Mike serves on the Board of Directors of ForwardLine Financial and Tanimura & Antle (an employee-owned fresh produce company). He is also on the advisory board of a number of fintech, regtech, and alternative data firms (e.g., Vyze, Revolution Credit, Powerlytics, Demyst Data, Merlon Intelligence, Irene Home Equity, and SentiLink). Mike also serves as an advisory board member to a number of startups, including Powerlytics, Demyst Data, Raptor Intelligence, Inc., and Vyze, Inc. He has served on various nonprofit boards, including the Big Sur Land Trust, and the Monterey County Vintners and Growers Association.
Mike received his bachelor's degree with honors in political science from Grinnell College and earned his MBA in finance from the University of Chicago Booth School of Business.
Harold Martin, Jr.
Harold is CEO of Taco Mac, the largest sports bar brand in Georgia. Harold partnered with Fresh Hospitality to acquire Taco Mac in 2018 and has since reinvigorated the brand and repositioned the company for rapid growth. In 2019, Taco Mac was named Restaurateur of the Year by the Georgia Restaurant Association for the first time in its 40-year history.
Previously, Harold served as Interim President of Morehouse College. Prior to that, Harold was an Associate Partner at McKinsey & Company, where he advised Fortune 500 companies in the food and beverage sectors on strategic topics related to portfolio growth, commercial transformation, and merger integration.
Harold is a member of Young Presidents Organization (YPO) and serves on the boards of Bar Louie and Morehouse College. Harold is also the principal owner of Mary Mac's Tea Room, one of Georgia's oldest and largest restaurants.
Harold earned his bachelor's degree in business administration from Morehouse College, MBA from Harvard Business School, and law degree from Yale Law School.
Harold Moseley
Harry is the chief information officer at Zoom Video Communications responsible for disruptive innovation and corporate growth strategies. As the former CIO and a managing director for KPMG, Harry was responsible for technology and innovation. Before joining KPMG, Harry served as CIO and senior managing director-partner at Blackstone, where he led the company's transformation to the world's best digital alternative asset manager. Prior to Blackstone, Harry was a managing director for Credit Suisse, where he served as the CIO of global investment banking, and global co-head of application development/ co-CIO of the firm. Before Credit Suisse, Harry served as CTO and managing director for UBS Americas.
Harry has been inducted into CIO Magazine's Hall of Fame, recognized as one of the world's top 100 CIOs by Computerworld, and honored by Irish Magazine as one of its Annual Wall Street 50. He serves on the national board of the Leukemia & Lymphoma Society in addition to serving on the advisory board for its New York City chapter. Harry is also an advisory board member of BioDental Sciences, and a sponsor of nPower. He formerly served on the boards of Bi-Sam (since acquired by Factset) and iLevel Solutions (since acquired by Ipreo), as an advisor to Aquiline Capital Partners, and led Blackstone's investment in Watchdox (since acquired by Blackberry).
Harry earned his bachelor's degree in engineering, mathematics, and computer science from Trinity College in Dublin, Ireland.