Our leadership team
The members of the Rewards Network senior leadership team continue the tradition of helping businesses increase their revenue, bringing years of experience in sales and investment strategy, multi-media, and technology to the table.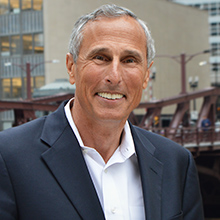 Edmond Eger III
Chief Executive Officer
Ed joined Rewards Network as chief executive officer and member of the board of directors in 2017, having previously served as chief executive officer of OANDA Corporation, a recognized global leader in forex trading, forex information and insights, and corporate solutions for cross-border payments. In his role at Rewards Network, Ed draws on his extensive experience in e-commerce, financial technology, leadership management, global branding, and risk management.
Ed previously worked at PayPal as senior vice president and general manager for the Americas. In this role, he was responsible for establishing PayPal as the preferred online payment method for consumers and merchants for PayPal's largest business unit, which covered North and South America. Ed's prior experiences include business management positions within Citigroup, Standard Chartered Bank, Wells Fargo Bank, and McKinsey & Company.
A native of San Francisco, Ed is a Phi Beta Kappa graduate of Claremont McKenna College, where he graduated magna cum laude in economics and mathematics. He received his MBA from Harvard Business School. He currently serves on the board of Manhattan Associates, a provider of market leading technologies for supply chain and omni-channel commerce; he served on the board of Digital River, an e-commerce platform provider, until it was sold in 2015. He has been active on several nonprofit boards, including City Year San Jose/Silicon Valley.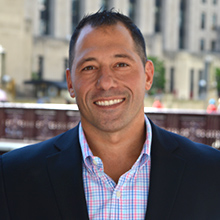 Steve Fusco
President
Steve joined Rewards Network as President in 2018, overseeing the Sales and Partnerships functions and serving in a general leadership position in support of the CEO, Senior Leadership Team and organization at large.
As a growth leader, Steve brings a strong background and deep experience in the fields of e-commerce, finance, banking, and technology, translating into the successful businesses he built at PayPal and before that, Citigroup. At PayPal, Steve served in a number of roles of increasing responsibility. Most recently, Steve served as Vice President and General Manager of Global Distribution in which he led a global team responsible for partnership with technology platforms and marketplaces. Prior to PayPal, Steve served in a variety of executive roles at Citigroup, in both the Credit Card and Retail Banking businesses.
A native of New York and graduate of Duke University and UCLA's Anderson School of Management, Steve spent his early career in the Marine Corps and remains active in veteran's causes. In 2014, he was recognized by the Silicon Valley Business Journal as one of Silicon Valley's "40 under 40."
Steve currently resides in Northern California with his wife and three children.
Linda Bartman
Chief Marketing Officer
Linda Bartman is senior vice president, chief marketing officer of Rewards Network, responsible for strategy, development, and implementation of all marketing programs impacting new member enrollment, member engagement, and client acquisition and retention.
Prior to joining Rewards Network, Linda served as chief operating officer (and before that, chief marketing officer) of Trunk Club. She has spent the majority of her career working for companies that need to build a function, solve systemic business issues, and drive significant change in the wake of major growth goals. In her nearly three years at Trunk Club, the business went from declining to what is now one of Nordstrom's fastest-growing businesses. Prior to Trunk Club, Linda was the global CMO of CDK, and before that CMO of Cars.com. She has also held leadership team positions at BP Fuels, GE, and Ameritech (now AT&T). She graduated from Loyola University with a Bachelor of Science.
Kevin Dulsky
Senior Vice President, Business Development and Partnerships
Kevin Dulsky is vice president of business development and partnerships, responsible for development and management of strategic commercial partnerships within the payments and card-linked offers industry.
Kevin joins Rewards Network with over twenty years of experience in business development for leading technology companies such as PayPal, Lyft, and Lighthouse. He was most recently head of business innovation at Lighthouse. His experience is characterized by high-impact roles and an extensive track record of successfully navigating complex ecosystems. Kevin also serves on the board of and advises various start-ups.
Kevin holds a bachelor's degree in social psychology with an emphasis in organizational behavior from Harvard University. He earned his MBA from Harvard Business School.
Dave Janek
Chief Financial Officer
Dave Janek is the chief financial officer of Rewards Network, responsible for all finance, accounting, planning, and analysis, as well as managing risk and overseeing the company's merchant cash advance portfolio.
Dave brings 35 years of professional experience in accounting, finance, and general management to the Rewards Network team. Following his start in public accounting at Deloitte, Dave led many finance and accounting organizations at companies like Woodhead Industries, Broadwind Energy, and Federal Signal. He has also served as president of several businesses, driving growth and operating improvements. Dave was most recently CFO of VaaS International Holdings, where he facilitated a successful sale of the company to a strategic buyer.
Dave is a certified public accountant, has a bachelor's degree in accountancy from the University of Illinois, and earned his MBA from Northwestern University's J.L. Kellogg Graduate School of Management.
James Roedding
Vice President, Product and Data
James Roedding is vice president of product and data, responsible for developing big data solutions and analytics strategies as Rewards Network continues to grow.
Prior to joining Rewards Network, James was chief operating officer and head of product for Gardenia Technologies, a B2B fintech company that uses machine learning to provide innovative trade finance and analytics solutions. Before Gardenia, James worked at McKinsey & Company.
James is a global thinker and citizen of the world, having lived in seven countries on four continents over the last six years. James has an MBA from INSEAD (Institut Européen d'Administration des Affaires) and a bachelor's degree in anthropology from Toccoa Falls College in Georgia.
Jeanne Steinback
Chief Technical Officer
Jeanne Steinback is chief technology officer at Rewards Network and was instrumental in converting the company's software development process to Agile in 2014.
With 17 years of experience building and managing lean, highly efficient software development teams, Jeanne's focus is on constant improvement and speed to market through process engineering and automation. During her six-year tenure at Redbox, Jeanne managed her development teams through the apex of Redbox's very rapid growth and changes in ownership, and served on the senior leadership team. Prior to that, Jeanne worked at Nightingale-Conant Publishing for eight years.
Jeanne employs a collaborative, team-centric management style with an entrepreneurial mind set, forming new Agile teams and converting existing teams to more efficient methodologies including Continuous Delivery, Agile (Kanban, Scrum, XP), and Lean processes.