100% of online reviews are posted by
verified guests
At Rewards Network, we always verify that a member has made a valid purchase at your restaurant before allowing them to post an online review or comment to your page.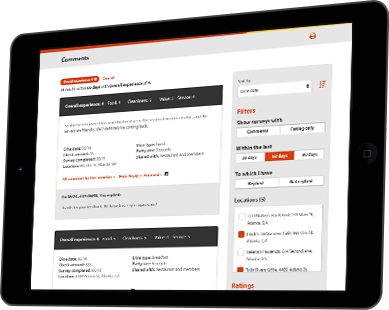 5-star reviews

submitted by verified guests
We set the stage for a positive online presence
Digital and social media can have a huge influence on restaurant traffic – both positive and negative! That's why Rewards Network ensures that every comment and review of our restaurants are verified to a network purchase. Our comment management platform allows you to:
Reply to member comments directly from our restaurant dashboard
Post reply comments in-line to your Rewards Network webpage
Your 1:1 engagement contributes to a healthier representation of your business
Plus, you can filter and aggregate all survey data to uncover more insights
Rewards Network dining members spend as much as 24% more on average than other customers in our network of restaurants.
Better reviews = better exposure
A positive online presence can be a powerful tool to attract new customers. That's why Rewards Network encourages customer engagement in a secure and transparent method. After all, more and better guest reviews lead to more and better visibility for your restaurant.
After every verified purchase, we send our members a reminder to rate and review your restaurant.
In some cases, our loyalty program partners incentivize online engagement by giving their members incremental rewards for each restaurant review they post.
The result is more qualified feedback for you and your team, and a more accurate and compelling representation of your restaurant.
Dining reviews from verified guests
"The reporting we get on a monthly basis includes reviews from the customers who I know actually ate in the restaurant … we make money with these reports."
Michael Schatzberg
Branded Restaurants | New York, NY
Contact us today to start growing your business
Speak to an expert.
Or call (800) 617-6067