Our sales leadership team
Members of our nationwide sales leadership team drive the success of our restaurants, helping small businesses achieve their dreams through increased revenue, comparative market data, and fast cash financing when they need it most.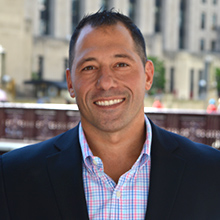 Steve Fusco
President
Steve joined Rewards Network as President in 2018, overseeing the Sales and Partnerships functions and serving in a general leadership position in support of the CEO, Senior Leadership Team and organization at large.
As a growth leader, Steve brings a strong background and deep experience in the fields of e-commerce, finance, banking, and technology, translating into the successful businesses he built at PayPal and before that, Citigroup. At PayPal, Steve served in a number of roles of increasing responsibility. Most recently, Steve served as Vice President and General Manager of Global Distribution in which he led a global team responsible for partnership with technology platforms and marketplaces. Prior to PayPal, Steve served in a variety of executive roles at Citigroup, in both the Credit Card and Retail Banking businesses.
A native of New York and graduate of Duke University and UCLA's Anderson School of Management, Steve spent his early career in the Marine Corps and remains active in veteran's causes. In 2014, he was recognized by the Silicon Valley Business Journal as one of Silicon Valley's "40 under 40."
Steve currently resides in Northern California with his wife and three children.
Michael Cicek
Vice President of Sales – Central
Michael Cicek is vice president of sales for Rewards Network's central division and is responsible for planning and executing strategies with a team of regional managers that focus on growing business, coaching/developing the sales teams, and providing a revenue growth solution for restaurants.
Michael has been with the company for more than a decade. Prior to Rewards Network, Mike worked in technology sales, with a focus on data applications for businesses.
Michael's vision of leadership is founded on a belief in work ethic and team culture. Teamwork is all about having a common goal for success, and the path to that success is through activity and self-discipline. Whenever possible, Michael is out in the field with his regional managers and account executives, working with new hires and supporting his team in client meetings.
Jennifer Gonsalves
Vice President of Sales – West
Jennifer Gonsalves is vice president of sales for Rewards Network's West region. The most important thing Jennifer imparts to her team is accountability. "We are in this together — each person with a responsibility to contribute to the whole — and win or lose as a team."
She is a longstanding sales leader, having served in sales leadership roles at Living Social and Xceligent before becoming Rewards Network's South Florida regional manager and then moving into her current role. She has proven her ability to drive change by creating a culture of performance and execution, with the results that speak for themselves.
Jennifer came to Rewards Network because of the people and leadership at the company — dedicated professionals who help restaurant owners realize their dreams. Originally an Ohioan and graduate of Youngstown State University, Jennifer currently resides in California where she leads a team of dedicated and high-performing regional managers and 40+ sales representatives.
Mitchell Hipp
Vice President of Sales – South
Mitchell Hipp is vice president of sales for Rewards Network's south division, responsible for driving growth across 10 states while leading a talented team of regional managers who oversee more than 50 sales representatives in the field. He manages increased merchant acquisition and retention, as well as recruitment of top sales talent, training and development of sales leaders, budgets, P&L performance management, and delivering exceptional support to the hospitality industry.
Prior to Rewards Network, Mitchell has had a long history of helping restaurants succeed and grow, focusing on marketing and financial support that allows restaurant owners to do what they do best. He was vice president of sales at Vector Solutions, as well as director of sales at LivingSocial, running their outside sales teams. Mitchell also launched the pilot program in their restaurant division for card-linked offers nationwide, opening major markets.
Above all, Mitchell believes that anything can be accomplished when a positive, fun work environment is paired with individual talent and effort.
Rick Blackwell
Regional Sales Manager — New Jersey/Delaware
Rick Blackwell is the Regional Sales Manager for the New Jersey/Delaware region at Rewards Network. His team's goals are centered around helping restaurants to achieve higher levels of growth, success, and profitability. Always striving to improve, Rick is involved in all aspects of his team from hiring and training to coaching and mentoring.
Throughout the course of his decade-long career at Rewards Network, Rick has developed from an Account Executive to an Associate Sales Manager, to now, a Regional Sales Manager. His extensive field experience with Rewards Network makes him uniquely equipped to help his team learn and grow within the company as quickly as possible.
Residing in suburban Philadelphia with his wife and daughter, Rick is an accomplished drummer and enjoys bicycling and spending time with family in his free time.
Rick Biordi
Regional Sales Manager – Northwest
Rick serves an exceptional team consisting of account executives and a strategic account manager that covers a seven-state region in the Northwest. Their mission is to help restaurants grow and thrive.
Rick joined Rewards Network with over 25 years of sales leadership experience in the technology, digital marketing, and food and beverage industries. He has a track record of success building all-star sales teams and developing winning team cultures. Rick previously served as sales director, North America with Shootsta, a global video tech company, national sales director at Compass Group's Foodbuy, and regional sales manager at Thomson Reuters. He also held various roles with Dex Media.
Rick is also an accomplished guitarist, songwriter, and music director who has worked with some of the music industry's biggest names. He loves sports, exploring the trails of the Pacific Northwest, and spending quality time with his wife and two daughters.
Parker Coomans
Regional Sales Manager — Pacific West
Parker Coomans is the regional sales manager for the Pacific West, crossing five states and encompassing Northern California, Nevada, Arizona, New Mexico, and the Hawaiian Islands. Parker is an accomplished sales leader with experience at both global companies and innovative high-growth startups, including LivingSocial, where he successfully led and managed sales teams from coast to coast during the company's hyper-growth years. He also served as vice president of national restaurant accounts at Omnivore Technologies.
Over the past 10 years, Parker has helped launch and held leadership roles at several technology companies in the consumer internet, media, restaurant and hospitality, and enterprise software segments. He is a seasoned professional with extensive experience in strategic planning, customer relations, team management, marketing, organizational strategy, business development, and sales management. He is a results-driven professional with a proven track record and executive management capabilities with a penchant for self-motivation, discipline, and organizational effectiveness.
Parker and his wife, Kari, reside in the heart of San Francisco and are passionately involved with the cultural arts institutions in the Bay Area.
Joe Dobek
Regional Sales Manager – Illinois/Wisconsin
Joe Dobek joined Rewards Network in 2021 and brings a great deal of experience in selling cash products and a relentless attitude and enthusiasm for the company and the role. Joe is currently the Regional Sales Manager, Illinois/Wisconsin at Rewards Network. He works with his team daily to help restaurants meet their goals through both the marketing and finance products. He will do whatever it takes to support and coach his account executives to help them achieve their goals and help Rewards Network grow their portfolio of great restaurants.
He joined Rewards Network because the company has the perfect product to help restaurants in any situation. He also loves the culture and the incredible people that are always working together to achieve their goals.
Prior to Rewards Network, Joe has been in the marketing space for 12 years, including five years at LivingSocial and Thryv. Throughout his career, he was able to be a top performer including attending six P Club trips. He has always been dedicated to helping small businesses achieve their goals and grow.
Joe resides in Elgin, Illinois with his wife Robin, daughter Payton, and son Brady. He is a true sports fanatic and loves all Chicago-related sports and Notre Dame. In his downtime he coaches his son's baseball team, enjoys spending time with his family at their summer house on Lake Michigan, and loves to fly (he has a pilot's license).
Omar Flores
Regional Sales Manager — North Texas/Oklahoma
Omar Flores is regional manager for North Texas and Oklahoma, splitting his time between
Dallas/Fort Worth, Arlington, Oklahoma City, and Tulsa.
Omar brings more than 20 years of experience in the advertising and digital marketing fields to Rewards Network. He has a proven track record as a sales leader, with extensive experience driving sales results through sales management, motivation, and mentoring.
Over the last 15 years, Omar has built, trained, and developed sales teams in organizations such as Verizon and SuperMedia. He also served as the regional sales director for Web.com for four years, where he increased sales by improving the recruiting and training process. Omar prides himself on leading with trust, honesty, and a determination to win, all while supporting and challenging his team.
Omar resides in Hickory Creek, a suburb of Dallas, Texas, with his wife of 19 years, Mylene, and their three children: Gabriel, 17, and twins Pilar and Vivian, 15. In his free time, he enjoys spending time with family, his church, the outdoors, and as a Scoutmaster in his sons' troop.
Jane Langdon
Regional Sales Manager – Central States
Jane Langdon is regional manager for Rewards Network's central states region, which includes Minnesota, Iowa, North Dakota, South Dakota, Nebraska, Kansas, Missouri, Arkansas, and Colorado. Her personal philosophy on leading her team of account executives and account managers is to lead by example. After an early morning (4:30 a.m.!) work-out, Jane is out in the field coaching her team, near and far.
A 24-year veteran of Rewards Network, Jane doesn't think of her role as regional manager as a job, and no one she works with is just a number. She's stayed with Rewards Network because when you're surrounded by the best corporate and sales team in the business, you don't leave it.
Focusing on what you can control, building confidence, and maintaining integrity — that's the secret to Jane's success and the success of her sales team.

Jay Lovelace
Regional Sales Manager – South Florida
Jay Lovelace is Rewards Network's regional manager for South Florida. He is committed to helping grow revenue at restaurants, nightclubs, and bars in the region, through coaching a team of dedicated, high-performing account executives and account managers. His management style is that of a player coach in the field leading the way.
Jay came to Rewards Network in 1993 as an account executive, and worked to build teams as a sales trainer before growing into the regional manager role. Jay has stayed with Rewards Network for over 25 years because the company continuously grows and adapts to the stay competitive in the market. No one else has an exclusive rewards program that can finance and market restaurants. Prior to Rewards Network, Jay was a buyer and equipment/supply specialist for Sysco Foods.
The most important aspect of leadership for Jay is the ability to improve existing standards to optimize the personal performance of his team members. Jay works diligently to help his sales team achieve (and exceed) their goals, as well as optimize their income.

Todd Marovich
Regional Sales Manager – Gulf States
Todd Marovich is Rewards Network's regional sales manager for the Gulf States, which includes the Georgia, Alabama, Mississippi, and Louisiana markets. He works in the field with his team of account managers and account executives to meet with merchants and tailor a program that best suits their needs.
Before joining Rewards Network in 2018, Todd was the regional manager at Xceligent, a commercial real estate data provider. He is a strong leader with 15+ years of experience dealing with national accounts and was excited to hit the ground running using Rewards Network's innovative technology.
Todd stresses the importance of being dedicated and passionate about leadership in order to be successful. His goal is to listen and understand the ever-changing trends of the market so that he can help his team efficiently adjust and react to obstacles. "I am here to coach, help, motivate, and celebrate the success of my team" he says, proudly.
Tina Myers
Regional Sales Manager – Mid-Atlantic
Tina Myers is regional manager of the mid-Atlantic states for Rewards Network, working with and coaching account executives every day to be incredible sales people and better understand the marketing and financing products available. She helps her team of executives and account representatives seek out sales opportunities and close more deals through ride-alongs and 1:1 training in the field. Tina contributes to the success of the entire Northeast Division by helping to train new account executives as they come on board.
From day one, Tina was excited about the opportunity presented by Rewards Network, describing the marketing it provides as "bigger picture" for the restaurant industry. To be able to invest your hard work in the success of a restaurant, helping them succeed and expand their reach, is a great feeling. Prior to joining the sales leadership team at Rewards Network, Tina was a salesperson for Sysco Foods and US Foods.
With over five years of experience as an account executive herself, Tina is able to share her hard-learned best practices and coach her team with real life scenarios. She understands the challenges, as well as the opportunities, that arise daily, and believes in congratulating even the smallest steps in the process. Her knowledge and experience are key in helping new account executives get to the next level of success more quickly.
Laurie Pincura
Regional Sales Manager — Southwest
Laurie is the regional manager, Southwest at Rewards Network. Her territory includes Southern California, Arizona, and New Mexico. She leads an exceptional team that supports over 1,400 restaurant owners and is committed to driving restaurant growth for the Rewards Network portfolio. Laurie works hard to lead by example to build a team with both balanced productivity and a strong customer mindset.
Previously, Laurie worked for 12 years at Jenny Craig International, ending her career as an assistant regional manager that was responsible for 11 California locations. She also boasts 10 years of experience in the print industry as an independent contractor for Money Mailer. A California native, Laurie is a proud mother of two children and currently resides in Lake Forest, California.
Lisa Poole
Regional Sales Manager – Southeast
Lisa Poole is Rewards Network's regional manager for the Southeast, responsible for helping her team achieve their personal and company goals. From supporting account executives in the field with cold calls and closing business to working closely with account managers to support and retain existing merchants, Lisa leads by example and believes in developing individual talent.
Lisa began her career at Rewards Network as an account executive, selling in the Raleigh, N.C. market. Eventually she transitioned to the regional manager role and now achieves success through her team's results. Prior to Rewards Network, Lisa was the national director of training for a national wine distributor and importer, combining her love for sales with her knowledge as a Certified Specialist of Wine (CSW) and sommelier.
Lisa's passion for coaching means her team of dynamic sales professionals always have her all in growing Rewards Network's stable of restaurants.
Letty Sanchez
Regional Sales Manager — South Texas
Letty brings over 20 years of experience as an executive leader driving sales, operations, and team development with consistent achievement in growth, performance, and profitability. Letty held several leadership positions across the country with AT&T as well as the private equity companies that purchased her division. She developed a reputation as a change agent, repeatedly called upon to turn around territories on the brink of being shut down. During her time as an executive leader, she coached and developed teams to top results that many had never achieved before by focusing on each individual's strengths and specific motivators. Her ability to lead teams to success using strong collaborative and decisive leadership skills resulted in being ranked in the top 3% of the company in each of her respective regions with responsibility levels up to $45 million in revenue.
Letty is passionate about organizational and servant leadership. She takes great pride in the successful evolution of her team members' sales results, their conviction in our products, as well as their confidence as sales leaders. She was born and raised in San Antonio, Texas, and her career has taken her to Kansas, Florida, and North Carolina. While in Florida she completed her MBA with honors, focusing on Concentration in Leadership for Managers. Letty now lives just 10 minutes south of Austin in Kyle, Texas with her wife, Renee, and their three children.
Rob Schreiber
Regional Sales Manager – North Florida
Rob Schreiber leads the North Florida region within our Southeast division. Rob brings with him a relentless passion to achieve greatness while motivating and mentoring individuals around him to reach their full potential.
Rob joins Rewards Network with 20+ years of experience in the digital marketing space along with 14 years of top performance in sales management. Rob started his career with Dex Media, rising in the ranks for 15 years until leaving to join the Web.com field sales team in 2015. There, his team broke every company sales record for four consecutive years while setting new standards for the company and its employees.
Rob hails from the sunny city of Tampa, Florida where he resides with his 14-year-old son and 10-year-old daughter. Rob is an accomplished pianist who also enjoys boating, personal fitness, and traveling with his children and wife Lily.
Steven Schwartz
Regional Sales Manager – Northeast
Steven is the regional manager for Rewards Network's Northeast division, responsible for all five boroughs of New York City, including our flagship market, Manhattan, as well as Long Island and the New York downstate markets up to Poughkeepsie.
He brings more than 30 years of sales leadership experience in a variety of industries to this role. This includes spending the last two decades working for two global financial services industry leaders, Citibank and Santander Bank. At Citibank, Steven led the firm's largest retail market as the division sales director for New York City and New Jersey, and he served as the director of sales execution at Santander, a position with national responsibility. Steven's experience in building high-performance teams, driving results, and building sustainable processes have been the hallmark of his success.
Steven is a lifetime New Yorker now living in Long Island and enjoys spending time with his three daughters in his free time.
Carrie Settle
Senior Regional Manager – Midwest
Carrie Settle is Rewards Network's Midwest regional manager, responsible for supporting her sales team and helping regional restaurants achieve their business goals. Every day, she's out in the field with her team, meeting current and potential restaurant clients, as well as working behind the scenes to ensure merchants have the best experience possible with Rewards Network.
Carrie came to Rewards Network for its great company culture and the ability to turn her passion for the restaurant industry into a positive impact on the fortunes of small- and medium-sized businesses. For her, there's nothing better than seeing a team member or restaurant thrive. Before joining Rewards Network, Carrie was an event planner with a restaurant group in Louisville, Kentucky, worked at her family-owned food business, and for American Express Corporate Card.
When it comes to success for her team, Carrie believes that enthusiasm and support are the keys to helping people reach their goals. Passion for what you do (and a bit of swagger) is what will take you far.
Tom Wall
Regional Sales Manager — Upstate New York/New England
Tom Wall is Rewards Network's regional sales manager for the upstate New York and New England territories. He works with his team of account executives to partner with restaurants and help them grow through the strategic implementation of marketing and financial services.
Tom is an experienced sales management professional with over 15 years of proven success and results in high-level leadership roles. During the course of his career he has been the recipient of the prestigious President's Club award nine times. Tom is known for developing top-performing sales professionals and coaching them to accomplish their goals while driving team results. Prior to joining Rewards Network, he held increasing roles of responsibility at Fleet Bank Boston, Bank of America, Target Corporation, and Santander Bank.
Tom is a big New England sports fan, regularly rooting for the New England Patriots, Boston Red Sox, Boston Celtics, and the Boston Bruins. He and his wife, Jamie, have a 7-year-old son and a 3-year-old daughter and love to spend summers in Martha's Vineyard.
Brandon Young
Regional Sales Manager – Southern California
Brandon Young is Rewards Network's regional manager for Southern California, encompassing the counties of Santa Barbara, Ventura, Los Angeles, San Bernardino, and Riverside. He manages a team of account executives, responsible for all aspects of sales strategy, revenue management, client acquisition and retention, and sales capability in support of the restaurant community in SoCal.
Brandon is an experienced sales leader with more than 10 years of proven success and results in high-level leadership roles. He has notable sales accomplishments in digital advertising, SaaS, marketing technology, and integrated media experience with leading companies such as LivePerson, Netsertive, Dominion Enterprises, Pandora Media, Los Angeles Times Media Group, and Cars.com. His successful leadership approach hinges on his ability to motivate salespeople and to build, develop, and cultivate top-performing teams, which in turn drives revenue and achieves sales performance goals.
Brandon and his wife, Maryann, have a 7-year-old daughter and 5-year-old son. They live in beautiful, sunny Pasadena, California, and have been to the Rose Parade on New Year's Day 13 years running.