Mobile app for restaurant ordering
Online ordering started back in 1994 with Pizza Hut and World Wide Waiter. In the years since, online ordering has seen consistent growth as customers gain easy access to the Internet and smartphones. And it doesn't look like it's going anywhere soon.
According to the National Restaurant Association, 44 percent of consumers placed a takeout or delivery order using a restaurant app or website in 2018 — the world is going digital. Is it time to jump on board? Should you update your systems and produce an app of your very own?
The rise in restaurant ordering apps
Given the ubiquity of smartphones, it makes sense that restaurants have created opportunities for customers to order via their phones. Ease of use is a key part of a positive customer experience, and nothing is easier than ordering via app — tap a few buttons, and the food shows up at your doorstep or at the restaurant counter, ready to eat.
A mobile app for restaurant ordering allows customers to customize their order on-screen. While that may not seem immediately significant, it's a key element to consider if you're looking into producing an app for your restaurant. The financial impact of that ability will be discussed later, but one of the reasons online restaurant ordering has taken off recently is that it allows restaurant guests to customize their meal experiences.
Even better for the restaurant patron, they can personalize their order conveniently. With an app, they no longer need to explain a complicated order to someone behind a counter (or on the phone) and worry if it will get made correctly. Now, they can make all their selections on a screen and enjoy their personalized food.
An app for your restaurant
The data shows the increasing importance of mobile ordering, too — 6.6 percent of orders are made online or via app in 2017, exceeding the percent of orders placed by phone. Apps are also proven to increase customer loyalty. But, before you jump in with both feet, consider a few factors.
First, the most successful restaurant apps come from brands that already have massive customer bases like Starbucks, Domino's, and Taco John's. They're able to leverage their existing popularity to push their apps to the top of the downloads page and get it seen by people who may not have been customers. But what does that mean for you? Well, unless you're running a franchise, chances are your customer base is local and a lot smaller than a brand like McDonald's.
This means that your app, no matter how versatile, well-developed, and perfectly suited for your purposes, won't be seen by enough people to make it profitable.
The average cost of acquiring a customer to download your app and make a purchase could well exceed the average order value you get from them. And that cost doesn't include what you have to spend to actually develop the app in the first place. That's a lot of investment for an app that has to compete with major brands just to get seen.
But online ordering is showing consistent growth, so looking for ways to meet your customers where they already are is an excellent idea. Making the customer experience more seamless is the goal, right? And it doesn't hurt that online ordering provides business benefits beyond customer loyalty as well.
Do apps make it easier to upsell?
Mobile apps and sites where you can make a restaurant order are designed to increase customer spend per order.
Why? Because mobile apps and sites tap into an existing mentality among shoppers allowing them to order exactly what they want without having to explain their orders to staff members. Which, in turn, makes it easier for you to sell customers ingredients that they might not otherwise order.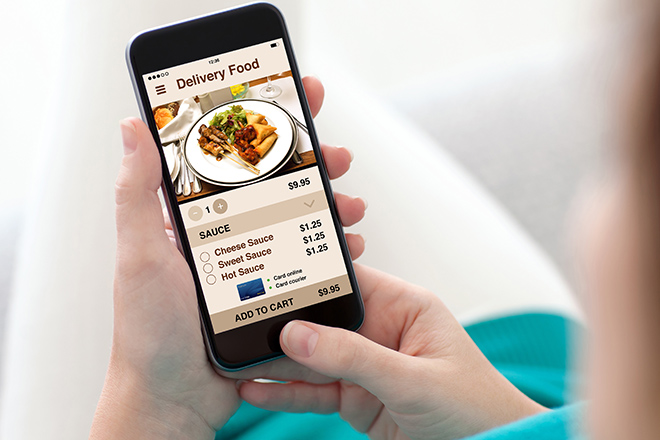 Because customers can adjust their orders more easily online and get exactly what they want without hassle, they're more likely to spend more money on their food. Restaurant delivery and takeout show enormous growth potential. IHOP saw a 5 percent increase in to-go orders in 2018. And Taco Bell reported a 30 percent increase in spending on online orders. Where the big chains lead, consumers follow. Restaurant guests increasingly expect easy customization and online ordering.
Creating your own mobile app for restaurant ordering might not be the best choice for you. That doesn't mean you can't jump aboard the trend though. Mobile restaurant sites show twice as many visits over time than apps. They also tend to be less expensive to develop than an app. So, if you're looking to increase customer loyalty, and get in on the online ordering trend, consider looking into creating a responsive, mobile website.
Are food delivery apps right for you?
Learn more about the advantages and disadvantages of using online ordering systems.
Benefit from mobile marketing
Take advantage of the rise in mobile devices through marketing.
Make the most of social media
Leverage social media to your best advantage.
Rewards Network® does not provide tax, legal, or accounting advice. This material has been prepared for informational purposes only, and is not intended to provide, and should not be relied on for tax, legal, or accounting advice. You should consult your own tax, legal, and accounting advisors before engaging in any transaction.