As with so many nations with long storied histories, Filipino cuisine is a major element of the culture of the Philippines, finding its origins on these Pacific Islands just adjacent to the South China Sea. Thanks to centuries of both trade and colonialism, the foods of the Philippines take on many of the flavor components of not only the neighboring cultures of China, Indonesia, and Malaysia, but also Spain, a major settler in the Far East for centuries.
Still, Filipino cuisine is dynamic on its own, with bold flavors of coconut, citrus, slow simmered marinated meats, and mildly sweet notes. There's a lot to explore in this cuisine, but it can be difficult for non-Filipino diners to know where to start. Here are ten items that can be a strong start to a rich cuisine for any curious eater.
Lumpia
The Filipino version of spring rolls, this crepe-like lumpia wrapper has a savory filling, usually with pork, beef, or shrimp and vegetables like cabbage, green beans, bamboo shoots, leeks, and carrots. While there are unfried variations, many love fried lumpias for the great crunchy texture of the wrapper as they bite into it.
Chicken Adobo
This dish has the chicken marinated in vinegar, soy sauce, and garlic for several hours. The chicken is pan fried until it develops a nice brown crust, then the marinade is added into the pan to create a thick glaze before the chicken is served with rice. "Adobo" refers to the vinegar marinating process originally used for food preservation, and while many other cuisines have incorporated the technique in different ways, it's believed to have originated in the Philippines.
Ube
Subtly sweet with earthy notes, this purple yam is a key ingredient in a wide variety of Filipino desserts, from cakes to jams to ice cream. The mild sweetness of the root vegetable makes it perfect for those diners who want to enjoy a pleasant end of a meal without worrying about a sugar bomb in their mouth. More than anything, ube desserts are most recognizable for that striking color — when we say it's purple, we really mean it's purple.

Pancit bihon
"Pancit" refers to any type of Filipino noodle dish, but the most popular and common is pancit bihon. Bihon noodles are an especially thin rice noodle that's stir fried with soy sauce, a citrus element, some fish sauce, a protein (chicken, shrimp, pork, and Chinese sausage are all very popular), and a mix of vegetables.
Atsarang Labano
This pickled radish is more of a condiment than a dish in itself. However, the atsarang labano brings a balance of sweet and acid notes to a variety of dishes, including fried fish and noodle salad. The radish is often pickled with carrot or onion.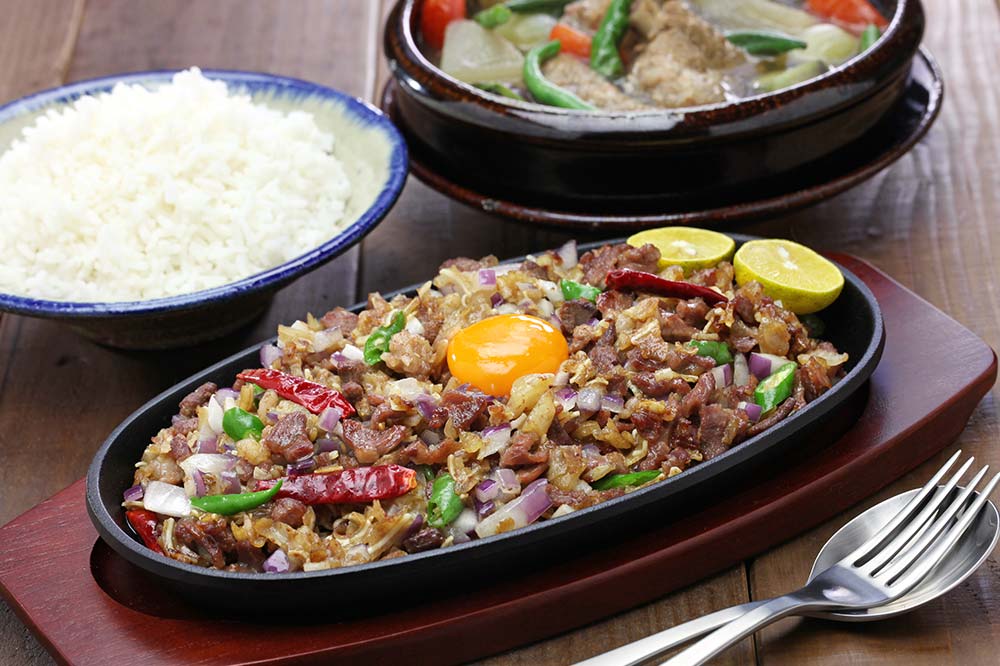 Sisig
Also known as "sizzling sisig," pork sisig features meat from the pig's head (including the ears and snout) marinated in vinegar and served with chicken liver. This indulgent, fatty dish is often served on a sizzling plate and topped with a raw egg, making the egg whites cook right on top of the food. While pig's head is traditional, you can get really creative with this dish. For instance, San Francisco's Elena Una restaurant offers you a choice of oyster, tofu-mushroom, or bagnet (crispy pork belly) sisig!
Sinigang
This pork soup owes its distinctive sour flavor to the tamarind fruit as one of the main ingredients (although it can also be made with guava or a "sinigang mix" powder that's sold specifically for the dish). Tomato, onion, and garlic round out the flavor components of the broth, although daikon radish, long chili pepper, taro, bok choy, kang kong leaves (also known as water spinach), cabbage, and other vegetables can be found in sinigang as well.

Bibingka
With the holidays upon us, it wouldn't be right to leave off this holiday dessert. Traditionally served at Christmastime in the overwhelmingly Roman Catholic Philippines, the bibingka is a coconut rice cake that's mildly sweet. While another tradition includes cooking the cakes in special terra cotta pots and banana leaves with hot coals surrounding it (giving the bibingka a pleasant charred crust), modern cooks can replicate that caramelization by placing a nearly done bibingka under the broiler.
Halo-halo
Sometimes spelled hulohalo, halo-halo is a mix of evaporated milk, shaved ice, and various other layers. The dessert can include fresh fruit, sweet preserves, plantains, or even a scoop of ube ice cream on top. No matter what the flavor components, the most important thing to remember is freshly shaved ice to give it the right texture.
Arroz Caldo
Arroz Caldo is the Philippines' version of chicken congee and a true comfort food. Rice and bone-in chicken are simmered until the chicken is fall-off-the-bone tender and the rice has broken down into a porridge consistency. Green onion, calamansi (a particularly sour citrus) juice, and fried garlic can be added to deepen the flavors. It's often a mid-morning snack, but could also be a light lunch.
Want to explore another cuisine from the other side of the world? Check out our comprehensive glossary of Indian dishes now: