There are few foods that have been Americanized quite like pizza. While it has origins in Naples, Italy, the modern American pizza took off thanks to Italian immigrants coming to the new world and making adjustments to the old-world recipes.
But now not only does America have its own take on pizza, it has lots of different takes on pizza. Everywhere you go in the US you'll find a different regional version of one of America's favorite foods.
New York
One of the most well-known types on this list, New York style pizza is known for being thin, wide, and easy to fold over. Its dough is hand-tossed until thin and topped with tomato sauce and a thin layer of shredded mozzarella cheese (although obviously other toppings can be added over the mozzarella). It's cooked in a deck oven to get that softer crust, making it perfect for folding. Then the pizza is sliced into wide pieces. Whether grabbing a slice after bar hopping or running out for one at lunch, New Yorker's love their pizza.
New Jersey
What could possibly be the difference between a New York and New Jersey style pizza? A whole lot, especially if you ask a New Yorker or New Jersey native! Both a thin-crusts, pieces cut wide to be eaten by hand on-to-go. But the key difference is what happens when you fold your slice to take that first bite. New York style pizza reportedly owes its suppleness to the water in the city, holding its pliability without cracking. But New Jersey style gives you a nice crackle when you fold it, owing to the stone oven in which it's cooked.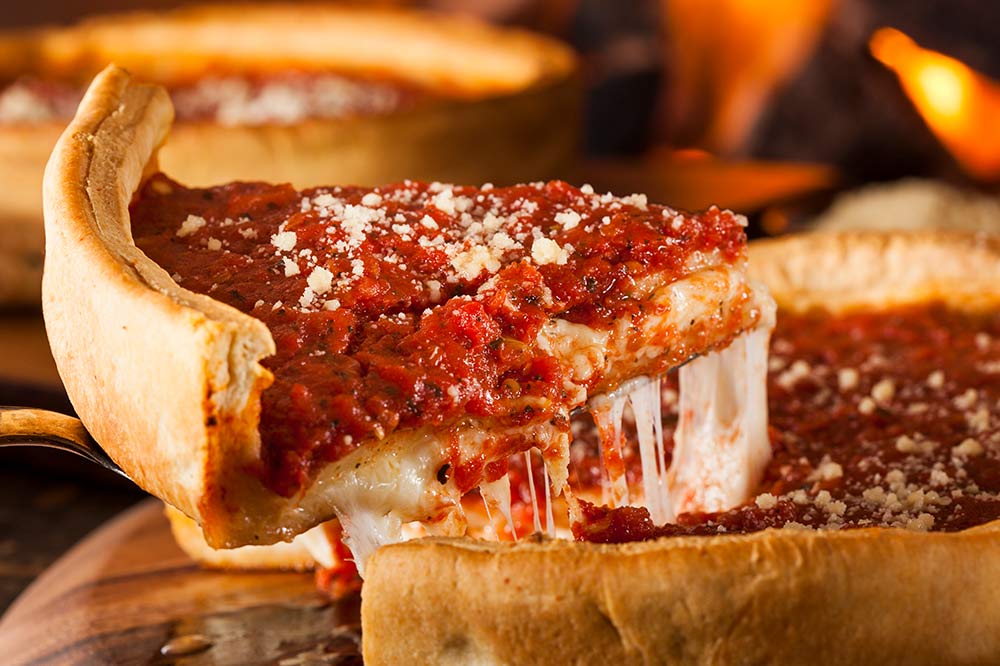 Chicago
While it's one of many deep-dish style pizzas in the US, Chicago style pizza is probably the best known deep-dish. It's the one that immediately comes to mind for many because it's just that iconic. Every Chicago pizza place from Pizzeria Uno to Giordano's has its own deep-dish crust recipe, but generally, it's made from either wheat or semolina flour to give it a yellowish color when baked (and Lou Malnati's has its famous butter crust). It's pressed into a round, steel pan before adding cheese, meat and vegetables, and then the tomato sauce and sliced tomatoes — yes, in that order.
After baking, the pizza is sliced right at the table; this is to avoid the tomato sauce and oils from the toppings to soak into the crust before you can enjoy it. If you've ever gotten Chicago style delivered and wondered why you had to cut the pizza yourself, that's why!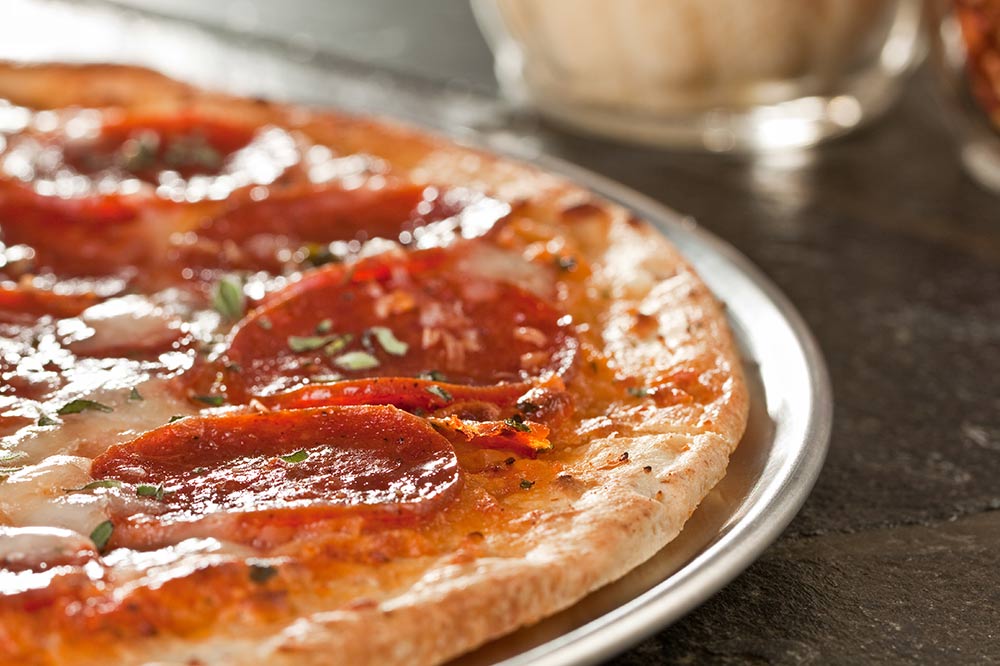 St. Louis
For St. Louis style pizza, you've got to start with an unleavened dough. This creates the thin, cracker-like crust that is key to a good St. Louis pizza. Tomato sauce is added, and then the special St. Louis cheese blend known as provel — white cheddar, Swiss, and provolone. After it's baked, the pizza is cut party-style, aka into squares instead of pie slices.
Detroit
Detroit style pizza is deep-dish like Chicago's, but it's a very different take from their Midwest sibling. Detroit pizza is made in a square or rectangle tin pan, and the middle of the crust is nearly even with the edges. The dough itself is light and porous, similar to Sicilian dough methods. When cooked, it's crispy on the bottom and edges but light and soft on the inside.
Like Chicago pizza, the toppings and cheese (traditionally Wisconsin brick cheese, not mozzarella) go on before the sauce, protecting the dough from getting soggy. That's why this pizza is sometimes called "Detroit Red Top"!
New Haven
Based in New Haven, Connecticut, this brick oven cooked pizza (or "apizza," as New Haven-style restaurants call it) has its roots in Neapolitan-style pizza but is a delicacy all on its own. New Haven uses a long cold fermentation process for the dough, and the oven gets the pizza nice and charred. A "tomato pie" skips the cheese, and most New Haven pizzerias will treat mozzarella as a topping on its own. Another variation is their white clam pizza, which combined clams, garlic, and cheese.
California
For California style pizza, it's less about the dough (hand-tossed) or the sauce (usually tomato), but all about the toppings. This pizza leans into the cuisine of the west coast. The flavor profiles can vary wildly, it's quail eggs or goat cheese and caramelized onions or duck sausage or lobster or smoked salmon, capers, and crème Fraiche. But the focus is always on quality ingredients and a unique pizza eating experience.
Want to explore the true range of Mexican food in America? We have your essential guide: